fall in love with our features
We have two cabins available for rent.  Each cabin sleeps up to ten people.  Light housekeeping, bring your own bedding (can provide for a fee).  Each cabin has a bathroom with a flush toilet as well as a kitchenette with the necessities.
Spacious deck boat used for Guided Tours and activities. Whether you want to go fishing, boat around the lake or even water ski, this boat is AMAZING for it.
Codette Lake is the perfect outdoor playground for water enthusiasts.  The lake has high banks on either side which means when one side is rough the other could be calm.
There are many coves and inlets to explore on Codette Lake making it the perfect choice for getting on the water in kayaks, canoes or even paddle boats.  Picture yourself paddling down the lake listening to the water splash on the side of your boat and listening to the birds chirp all the while there is a beaver or otter swimming 10 feet from you.  Absolutely breathtaking.
Play on the swings or monkey bars and then go down the hill to the sandy beach to play in the sand and cool off in the lake.  It is a great place to learn how to kneeboard, ski or wakeboard.  There is also driftwood along the shore that you can search through and find your perfect piece to bring home for decor.
There is a concrete pad and a new boat dock that makes launching easy.  If you don't have a boat but still want to fish, you can rent one.  There are also many people who fish right off the dock or from the shore.  There is also a fish filleting station located in the parking lot.
The campground is spread out and the majority of spots are in the trees.  There are nightly and seasonal rentals available with or without electricity.  There is potable water available at the pump house as well as a sewer dump.
Our quaint store carries most of the essentials along with snacks, fishing supplies, bait and ice cream.  There is also many antiques to come in and check out while you are shopping.  You are also able to rent boats, canoes, kayaks, paddle boats and peddle bike boats. 
The winter months are just as beautiful as the summer.  The sun shines through the big beautiful northern sky making it the perfect day to snowshoe right out the door from the cabin.  There isn't any specific trails, but we still get out to explore the wilderness.
Codette Lake has become a very popular destination for ice fishing as it is located upstream from Tobin Lake.  There are several species of fish found in Codette Lake, with the most popular being Walleye, Northern Pike and Perch.
The sliding hill is located by the boat launch which is only a 5 minute walk from the cabins.  When the kids need a break from ice fishing they can just walk up the hill and slide down.  It is such a nice break for both the parents and the kids.  Make sure to bring your crazy carpets, GT Racers and tire tubes, because it is such a blast!!
Blue Winds Fish n' Tours is located right on Codette Lake which is convenient for snowmobilers as they can use the lake to get to Nipawin in approx 15mins.  The Fort a La Corne forest reserve is located across the lake from Blue Winds Fish n' Tours which has hundreds of miles of marked and unmarked trails.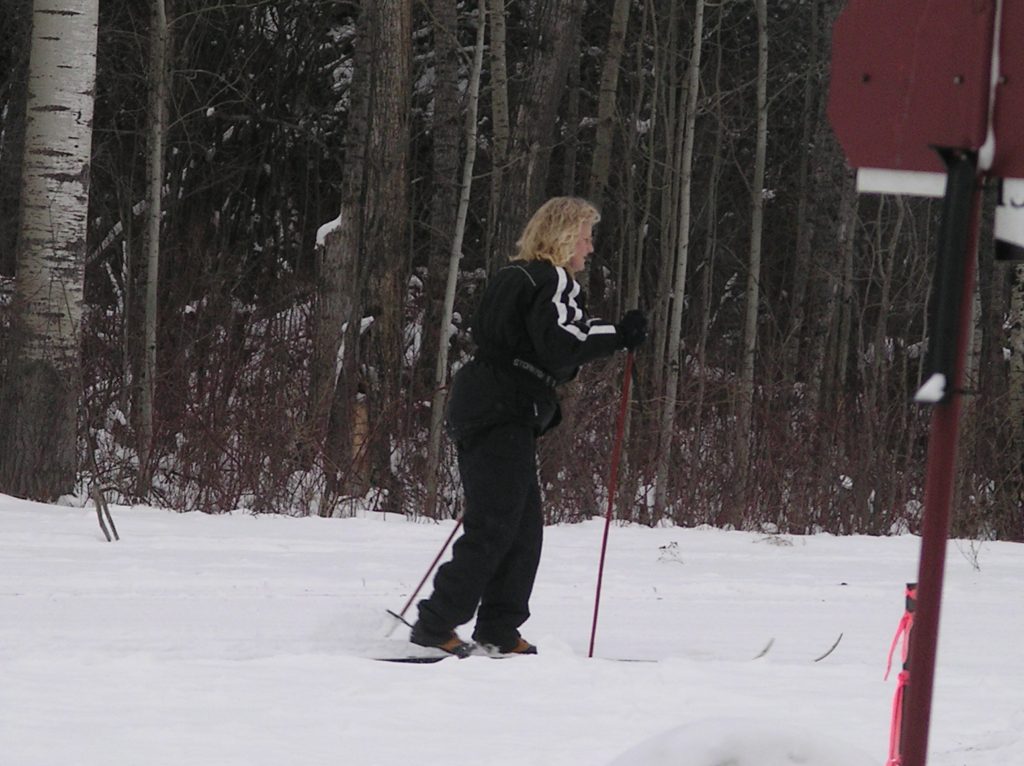 Blue Winds Fish n' Tours has several unmarked trails and plenty of space to make your own trails through the beautiful trees.  Blue Winds Fish n' Tours is also located approximately 20 minutes from the Nipawin and Gronlid Ski Trails and is adjacent to the Fort a La Corne forest reserve.